Share. Engage. Act. Inspire. Change.
Contribute to 'Voices of Change'. We are all affected by NCDs. Add your voice to the campaign through 'Voices of Change'. Voices of Change will be integrated into HLM advocacy and ENOUGH. related communications including through social media and with Member States.
– Share 'Voices of Change' quotes, champion quote cards, infographics, video messages or key messages through social media. Simply click and share where you see social sharing icons and remember to include #enoughNCDs.
Share your story through the WHO NCDs&Me portal and engage directly with people to show the human face of NCDs.
Create your own tweet or message for social media, and remember to include #enoughNCDs… you might like to use the prompt question: "When it comes to NCDs, what have you had enough of?" Check out our guides for tips on using social media to join the campaign, individuals and civil society organisations.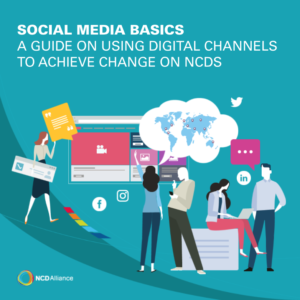 For example you could tweet:
Living with #NCDs is tough enough – financial hardship and limited access to treatment is not fair. Our health is our right, and all people need action to protect it right now! #enoughNCDs #HealthForAll #NCDvoices @ncdalliance enoughncds.com [click here to easy-tweet this message]
If you are a person living with an NCD, join the 'Our Views, Our Voices' Community.
Subscribe to ENOUGH. campaign updates for regular updates.
Sign up to the NCD Alliance newsletter for the latest NCD news, events, jobs and developments.
Stay tuned on social media @ncdalliance and #enoughNCDs – Follow, like, share, comment, engage.
Want to step up your engagement a notch? Check out the pages below:
Know the facts
Learn about NCDs, the HLM, and what needs to be done to stop preventable death and suffering from noncommunicable diseases. Great places to start are: