THE 2018 UN HIGH-LEVEL MEETING ON NCDs
Death and illness caused by noncommunicable diseases bring suffering and heartache to millions of people worldwide every year – those who live with the diseases, as well as their families and friends. The greatest injustice: much of this NCD suffering and death is preventable, and we have long known the solutions. An obstacle to sustainable development, inaction in addressing the risk factors and health system weaknesses continues to drive up the prevalence of NCDs. This is unacceptable. We have had enough of waiting for meaningful action.
Learn more about NCDs & ENOUGH – our 2018 campaign for the right to a healthy life free from preventable suffering, disability and death for everyone, everywhere, now.
ABOUT THE ENOUGH CAMPAIGN
NCDs & THE UN HIGH-LEVEL MEETING
To ensure the most successful High-Level Meeting (HLM) possible, we advocate for the participation of Heads of State and Government throughout the UN HLM process and at the HLM, and an action oriented Outcome Document that commits to the following 6 priorities:
Community and political leaders, celebrities and respected influencers from all sectors and fields are joining the movement to draw a line in the sand and say 'enough is enough'. NCD champions are stepping up to the challenge to raise awareness, motivate investment, and inspire and commit to political action to reverse the trajectory of NCD burden.
Add your own voice of change – we are all affected by NCDs, add your voice to the campaign through 'Voices of Change'. Voices of Change will be integrated into ENOUGH communications and compiled and shared with country Missions to the UN in New York as part of the ENOUGH campaign.
ONE Champion
Physiotherapist
@TheRotimiAlao
More investment is needed to prevent and manage NCDs and the time is now. Meanwhile, get physically active, eat healthy, avoid harmful use of alcohol, stop smoking! Prevent NCDs.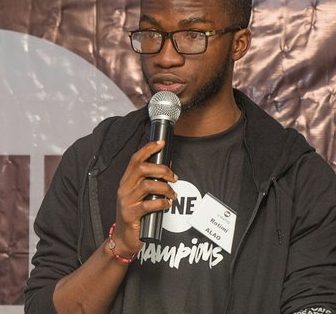 I've had enough of CANCER taking away my family before I have had enough time with them.
MBIYDZENYUY FERDINANT SONYUY
Coordinator, Cameroon NCD Alliance
@ferdinantmbiy
Two patients who attended our community conversation expressed their views and voices and died a month after. What could we have done for their solvable challenges? End empty political talk and act.
The Map of Impact shows where ENOUGH is resonating around the world, and we welcome submissions of your own local news, events and resources. Voices of Change and Pledges will also be added to the map to demonstrate just how far and wide NCDs are impacting on people and need action for change. We accept contributions in English, French or Spanish.